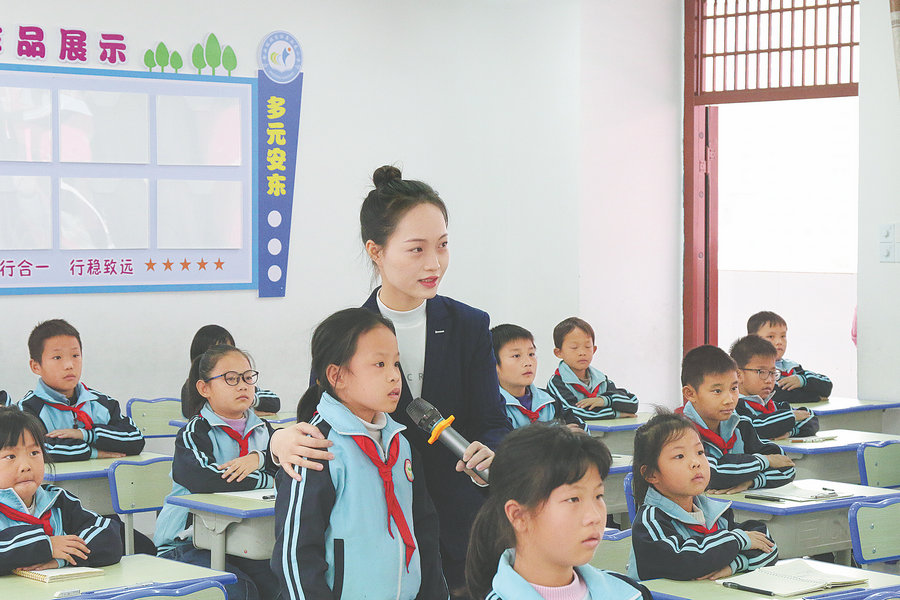 Rural schools in South China's Guangxi Zhuang autonomous region get connected to more facilities and give students greater opportunities, report Yang Feiyue and Zhang Li in Nanning.
Zhang Jingwen had her prayer answered at an online space travel class. The 12-year-old got to learn about theories and anecdotes behind the Shenzhou XIV manned spaceship from a scholar thousands of kilometers away from her village home.
Not a new concept for many urban children, online education was a novelty to Jingwen and many of her rural counterparts.
Jingwen, a sixth-grader at Andong Primary School in Chengjiang town, Du'an Yao autonomous county, South China's Guangxi Zhuang autonomous region, relishes the knowledge she has acquired.
She jumped at the chance, at the online session in early November, and asked the expert on the other side of the screen about the odds of her getting to communicate with an alien.
The expert didn't give her a definitive answer but piqued her curiosity to dig further into the subject.
"I didn't dream of having the class on the subject and even getting a teacher to answer my questions," says Jingwen.
She has been fascinated by the stars but found little information, such as on TV, and there were no learning materials at school, which has more than 1,000 students.
"Most of the students are from villages," says Huang Zhaohua, the school headmaster.
Huang had been looking for ways to improve the teaching capacity and got what she wished for when she found that an online classroom program was producing fascinating results in Du'an county's Gaoling town, about 30-minute drive away.
The program brings rural schools access to quality education from the cities.
It all started when Chen Yanhui came on the scene.
After finishing his doctoral degree in physical electronics at Peking University in 2018, Chen engaged in high-tech work at the Guangxi development and reform commission.
In April last year, Chen was sent by the commission to Jiaquan village, Gaoling, as a first Party secretary.
When he paid a visit to Jiaquan Primary School, the only teaching spot in the village, the 35-year-old was heartbroken by what he saw.
It was the rainy season in May, the mountain moisture shrouded the teaching place that was hidden in the mountain. "The student dorm building was located on the hillside and some windows were broken, allowing moisture directly into the room," Chen recalls.
As he touched the quilts, some of them were so damp water could be wrung out of them.
That was when he decided to improve the school's infrastructure as a matter of urgency.
Under recommendation from the social organization bureau with Guangxi's civil affairs department, Chen decided to work with the Guangxi Youth Development Foundation.
More than 1.2 million yuan ($172,400) was used to upgrade the school and to construct a library, calligraphy room and a reading garden.
http://www.chinadaily.com.cn/a/202301/02/WS63b24a93a31057c47eba73a0.html